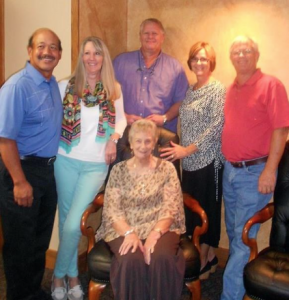 On September 17, 2014, TBFer and our church secretary, Maxine Blystone celebrated her 90th birthday. On September 18th, she started planning for her next big birthday which will be September 17th, 2024.
Anyone who knows Maxine will tell you how "young" and sharp she is which includes her incredible memory. As a cancer survivor, Maxine holds down not one, but two part-time jobs and will go (anywhere) at the drop of a hat.
As one can imagine, at 90, Maxine has seen many changes and had many experiences. I thought up some questions to ask about her life and also took some suggestions from my Facebook friends. Here is how the questions and answers (Q & A) went:
Q (by John Love): Who was president when you were born (in 1924)?
A: I don't know, but I remember Roosevelt and particularly Harry Truman because he was from Kansas City, Missouri. I would walk by his haberdasher (men's clothing store) every morning going to school. (Calvin Coolidge was President in 1924.)
Q: So, you are from Kansas City, MO?
A: Yes, I was born in the Women's and Children's Hospital in Kansas City, and grew up there. I lived in Michigan for 12 years and have lived in Duncan for 32 years.
Q: Tell me about your Swedish ancestors.
A: One side is Swedish and my other side is Welsh. I am a second generation United States immigrant. The Swedish side of my family would have a Smorgasbord on Christmas Eve and we would all go to church at midnight. We kids couldn't understand a word because it was all in Swedish. We didn't know Swedish because my grandparents wouldn't let us grandkids speak it because we were Americans.
Q (by Lori Wright): Tell me about your schooling.
A: I graduated high school from Westport in Kansas City and then went to Kellogg Community College for two years.
Q (by Carol Wanzor): Who was or is a role model or mentor in your life?
A: There are so many. No specific one.
Q (by Mitzi Copass): How did you come to know Jesus? What is your favorite verse or passage from the Bible?
A: I went to church from the time I was born until now. Always have. I've always had Him. If I had a turning point, it was when I went to the Lutheran church where I went to classes on Saturday mornings to learn church history. I then had a confirmation ceremony.
2 Peter 3:18 'but grow in the grace and knowledge of our Lord and Savior Jesus Christ. To Him be the glory, both now and to the day of eternity. Amen.'
Q (by Pam Sampley): How did you meet your first love?
A: Where I worked at TWA. He was in Special Products and I was a secretary for Special Products.
Q: Didn't you work for the IRS? A: Yes, for 5 years.
Q (by Patsy Webb): What are some of the most memorable changes you have seen in your lifetime?
A: Prices of everything. Car prices. You could buy a car for $2000 and now they are $32,000.
Q: What is the most fascinating invention?
A: Radio to TV.
Q (by Carrie Carney and Janet Defate): If you could change anything in your life what would it be?
A: Not be so shy. Be more adventurous and not let my sister do everything for me. She was 3 years older than me. She took care of all of the mischief and arguments.
Q (by Robin Heinen): What do you miss the most about the good ol' days, and why?
A: Kick the Can and being able to stay out at night and being safe. My sister and I used to walk by ourselves half way to meet our Dad when he was on his way home from work at the Federal Reserve. We would stop and get an ice cream cone.
Q (by Elizabeth Pitts): What accomplishments are you most proud of?
A: Taking charge of my own life. Making decisions good, maybe bad.
Q: How many countries have you been to?
A: I have been to Ireland and Scotland, 20 in all. Would like to go to Wales where my grandparents are from.
Q (by Gloria Haske): What is your favorite place you have visited and why?
A: I would like to go back to Norway. It is beautiful as so many of the Scandinavian countries and Petra in Jordan.
Q: What is your secret to longevity?
A: Don't have one, but I don't worry – it doesn't do any good.
Q: What brought you to TBF (Tanglewood Bible Fellowship)?
A: My son Brad.
Q: What are your hobbies?
A: Crafts. I loved to ice skate. My sister and I would go twice a week. Sometimes the Kansas City hockey team would be there and we could skate with them if they asked you.
Q: Do you like music?
A: I love music. I sang in the choir and the Kellogg Community College chorus. I once sang a solo at a nightclub on amateur night.
Q: What is your favorite song?
A: Old Black Magic. How Great Thou Art too, because the tune is an old Swedish folk lore.
Q: Do you have an addiction?
A: Yes, candy. I am a chocoholic.
Q: What is your favorite TV show?
A: NCIS, but it conflicts with Dancing with the Stars on Tuesdays. There is coming up a (NCIS) marathon on Sunday and Friday. One of the actors is a young, tall blonde with messy hair and looks like a young Swede guy.
Q: What is your favorite movie? A: Frozen, right now.
Q (by Nancy Bowling): What give you joy?
A: Being around people. Even if I don't say anything – I don't have much to say.
Q (by Carrie Carney): What advice would you give to the youth of today?
A: Be your own person – don't let someone talk you into doing something. Be a leader. ~
Maxine has a daughter, two sons, 7 grandchildren and 12 great- grandchildren. Her family held a surprise birthday party with the entire family in attendance except for her granddaughter residing in North Carolina. On the following day, a special tribute for Maxine was held at TBF.
On Maxine's behalf, she wants to thank everyone for making her birthday special. She certainly enjoyed it.